Moodle Grades: Options for Viewing the Gradebook (Faculty)
Posted by Christy Mattingly on 03 November 2015 05:35 PM
Use the Gradebook View (Tri-)Toggle button to temporarily change what appears in the Grader report (spreadsheet view for instructors). To permanently change the order of the Course Total column, see other knowledgebase article links at the bottom of this page.



The View toggle in the gradebook can display various combinations of items and the course total. When the symbol displays as a minus sign, the gradebook is fully expanded with all categories expanded, showing all items, and the Course Total.




When entering grades into Records and Registration, it may be helpful to click the View button until a plus sign appears. This view collapses all of the categories within the course so only the student name and Course Total columns appear.




Click the View button again and the Full View icon appears as two L-shaped corners. This expands all categories and activity grades while hiding the Course Total column. This view could be helpful when entering grades while maintaining some privacy by hiding the Course Total.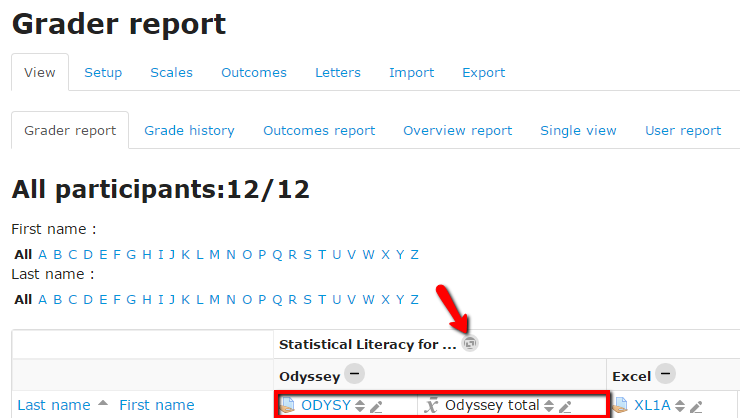 (Faculty) For additional help with Moodle, visit the Faculty Moodle Resources site at http://go.augsburg.edu/fmr.

Last Modified: 2017/05/16
---