Accessing your Augnet Folders from a Mac (Students)
Posted by Dan Hoisington on 16 March 2009 07:28 PM
From your personal Apple computer (OS X)
1) Make sure you are in the Finder (click on the desktop to enter the Finder).
2) Choose "Connect to Server..." from the 'Go' menu at the top of the screen.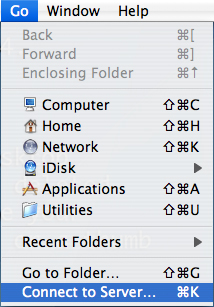 3) Then enter the desired address,
"student.augsburg.edu" for student personal folders
"facstaff.augsburg.edu" for faculty or staff personal folders
"orgs.augsburg.edu" for department or student organization folders
and click "Connect."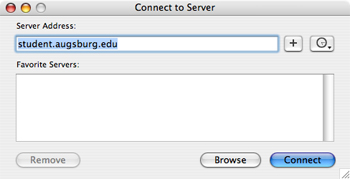 (Note: You may want to choose the + button to add the server to your "Favorites" list for future use.)
4) Enter your AugNet Username and password in the window that appears.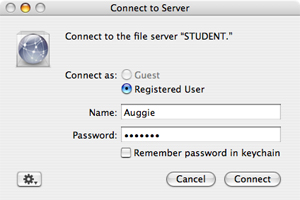 5) Then pick the Home directory you are looking for. *For example, if you are connecting to "student.augsburg.edu", choose "Students Home".
6) Now click "OK."
You should then see the server icon on your desktop:
"Students Home"
---