Moodle Dashboard: Adding an Image for a Course Listing (Faculty/Staff)
Posted by Christy Mattingly on 13 November 2019 12:45 PM
Level up the Moodle Dashboard for students and make courses stand out so they are easier to find by adding customized photos for each course.



By default, Moodle course images show up as a monochrome colored geometric pattern. For example: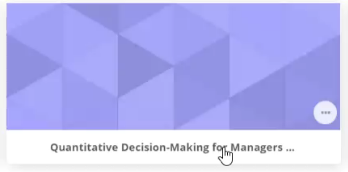 Instructors can customize the image by insert a picture for the course so it displays as such (image appears as shown in "Summary View" instead of "Card View" to show the full course name and description):

Find a picture to use for the dashboard view of the course and download it to your computer. Accepted file types are: GIF, JPG, PNG.

Sites that offer free images.

Note: High resolution photos may need to be opened in a photo editor and saved at a lower resolution to reduce file size and page loading times. Pixlr X is a simple web-based photo editor. Ask an LFC for help learning how to do this in about 30 seconds.



Go to the course site Administration block on the upper left and click "Edit settings". If you do not see it, click the orange tab to open the blocks.

The course settings page will open.




Scroll down to the section named Course image. Either drag and drop the image or click the upload button.





Scroll to the bottom of the page to click the Save and display button.



(Faculty) For additional help with Moodle, visit the Faculty Moodle Resources site at http://go.augsburg.edu/fmr.
(keywords: picture, pictures, images, design)
http://go.augsburg.edu/dbimage
Last Modified: 2019/11/13
---