Using Remote Desktop Connection for Windows and Mac (Faculty/Staff/Students)
Posted by Eric Strom on 23 February 2010 03:51 PM
A Remote Desktop Connection is available to people with Augsburg University accounts who need access to a windows PC application from off-campus or from a Mac on or off-campus. This article covers how to connect rdp.augsburg.edu from both a Mac and a Windows PC. There are two remote servers to choose from:
rdp.augsburg.edu - standard Windows and Microsoft Office, Agresso Client
remotelab.augsburg.edu - same software available as in the on-campus computer labs
Log in with username: AD\yourusername


Connect to RDP from
Mac OS X

using Microsoft Remote Desktop
Manually configure your Mac client to connect:

Click on the plus sign+ icon to Add a PC with the information listed below or as it appears on the image down below.


PC name: rdp.augsburg.edu OR remotelab.augsburg.edu
Gateway: Click "Add gateway" - Gateway name: ad.augsburg.edu
User account: "Add user account"
User name: (Enter AD\ followed by your Augsburg username)
Password: (Enter your Augsburg password here) then click Add and then Add a second time
On the last screen, for User account: choose your username from the drop-down
Double-click to open the remote connection
To log off remote desktop when done, click Start, Log off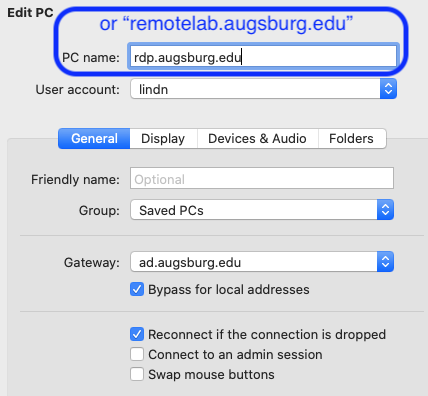 ---
Connect to RDP from a

Windows PC

:
Manually configure your client to connect to rdp.augsburg.edu OR remotelab.augsburg.edu:
From the Windows Start Menu, search for Remote Desktop Connection

Enter

rdp

.augsburg.edu OR remotelab.augsburg.edu into the Computer field.
Click the downward-pointing arrow next to Show Options at the bottom left corner.
Choose the Advanced tab at the top.
In the section titled "Connect from anywhere" click on the Settings... button.
Choose the selection circle next to "Use these RD Gateway server settings:"
For the Server Name, enter gateway.augsburg.edu . Set the Logon Method to "Ask for password".
At the bottom of the window, check the box for "Use my RD Gateway credentials for the remote computer".
Click the OK button to close the Gateway window.
Change the "If server authentication fails" to "Connect and don't warn me"
Go back to the General tab.
Choose Connect. If prompted for a username and password, enter your AugNet login.
You may receive a warning dialog that "The identity of the remote computer cannot be verified. Do you want to connect anyway?" Choose

Connect.

Enter AD\ followed by your Augsburg username and password. Click the Login Arrow to begin your session.


Accessing Local Files (from your Desktop or Laptop)
While using the Remote Desktop you can still access files on your local drive by enabling local drive access in the Remote Desktop options.
Open Remote Desktop Connection
Choose "More Options"
Click "Local Resources" and choose "More..."
Check "Drives" and click "OK
Choose "Connect."
Once logged into RDP you can open the file explorer. Under computer you should see something similar to "C on X390Y22-0VLA08" (drive letter on computer name). This is your hard drive. To navigate to your documents or desktop click on the drive, open the users folder, open your username, and open the Desktop or My Documents folder.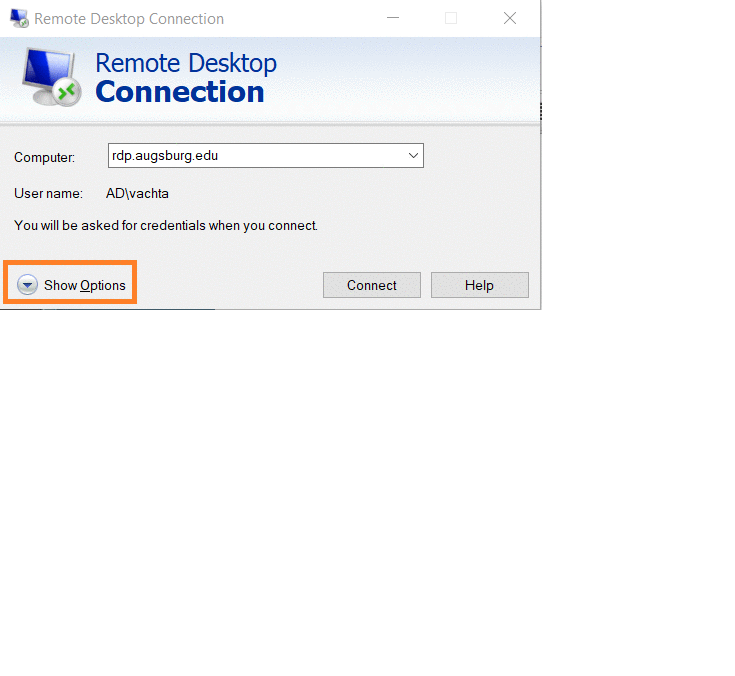 (Keywords: rdp )



http://go.augsburg.edu/rdphttp://go.augsburg.edu/remotelab
Last Modified: 2020-3-24
---