Accessing your Augnet Folders from the Web
Posted by Dan Hoisington on 16 March 2009 07:28 PM
Access Augnet Folders through the web:
1) To begin, log into the Inside Augsburg web site.
2) From the links on the left-hand side, choose "Account Utilities", then "Augnet Folders"
3) The drive named "Home@AUGSBURG" is your personal folder.
4) To open a drive, doubleclick on it.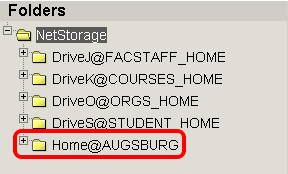 You will then see a listing of folders and files located in that drive.

Edit a file:
1) If you'd like to edit a file, you'll need to download it (save a copy to your computer).
2) To download a file, open the appropriate folder
3) Click on the File Menu
4) Select Download from the dropdown menu
5) You may be prompted to either open the file or save it to disk. Choose "Save to disk" and save the file on your computer. Now you can open it and make changes to it.
6) When you're finished editing the file, or if you have a new file to save in your network space, you'll upload (save a copy of) that file to NetStorage .
Upload a File:
1) Click on the File Menu and select Upload.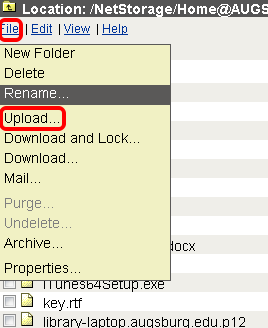 2) The Uploading File window is similar to the one in Webmail. You must browse to the file you want to upload and select it.
3) Once it is selected, you can click the Upload button to save the file into your AugNet folder.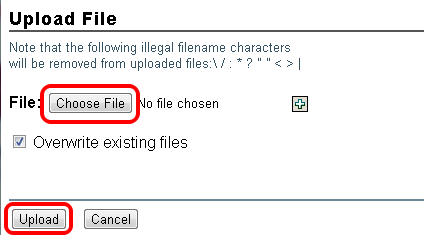 You will need to logout from the File Menu when you are finished.
---