Knowledgebase

Converting your Syllabus to a Moodle Page
Posted by Bonnie Tensen on 12 November 2015 11:26 AM
Most instructors post their syllabi on Moodle as a Word doc or PDF. However, there are many benefits to copying & pasting your syllabus into a Moodle page (a web page accessible only within your course). For one thing, a page is much more accessible to students--it doesn't need to be downloaded, can be viewed on all mobile devices, and is user-friendly for screen-readers. In addition, a page can be easily edited if you need to make updates. [NOTE: Should students want to print a copy of the syllabus, you could include a PDF or doc in addition to the Moodle page.]
In your Moodle course, click on the "Turn editing on" button in the upper right corner, and in the topic section in which you want to add your syllabus, click "Add an activity or resource."

Scroll down in the Moodle "picker" and select "Page."




In the window that opens, name the page "Syllabus"




Bring your Word doc into Moodle by following these instructions:

Click the "W" in the toolbar
Browse to select the document you want to insert
Click "Upload this file"
File will upload with formatting intact.




Click on "Save and display" to view the page. You may still need to "clean up" the text (the copy & paste might have included some Word formatting that is incompatible with HTML code). To edit the page, click on "Edit settings" in the Administration block. You may want to include


You can move the page to the location you prefer by clicking on the "cross" to the left of the item and dragging and dropping it into place.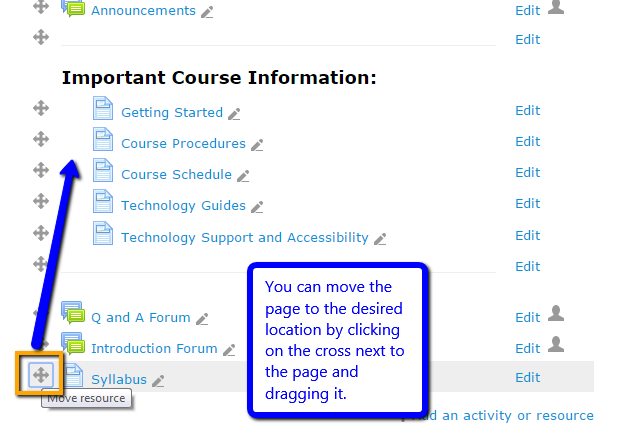 http://go.augsburg.edu/syllpage
Last Modified: 2022/05/16
---