Knowledgebase

Posted by Bonnie Tensen on 13 October 2015 02:09 PM
Realtime quizzing in Moodle is a synchronous polling device (similar to iClickers and Poll Everywhere) that operates within your Moodle course. Instructors create multiple-choice questions, and students logged into their Moodle course respond on their own devices (i.e., laptops, tablets, smartphones, etc.). Real time quizzes are an excellent way to quickly assess students' learning.
In your Moodle course, turn editing on, click "Add an activity or resource," and from the Moodle "picker" select "Realtime Quiz."




Name the quiz and provide a brief description or instructions. Choose how many seconds students will have to respond once you reveal the question. Then click on "Save and display."




Click on "Add a question."




Type your question and the answer choices. Indicate the correct answer by clicking on the appropriate radio button. Notice that "No 'right' answer" is an option (in case you are asking an opinion question). Then click "Save question and add another" to continue adding questions.




Realtime quiz questions can also include images




When you have added all of your questions, click "Save." Your quiz is now ready to administer in your class.




When you are in class and ready to administer the quiz, click on the Realtime Quiz activity you created on the main page of the course to open. Make sure you are on the tab that say "View quiz." Name the quiz using something that will help you recall the session, and then click "Start."


Ask the students to click on the Realtime Quiz activity on the main page of the course and then click on "Join Quiz."


When all students confirm they have joined, Click "Next" to reveal the first question. [NOTE: you may choose to project this on a classroom screen, but there is no need to do so. Students will see the questions and the polling results on their own screens.]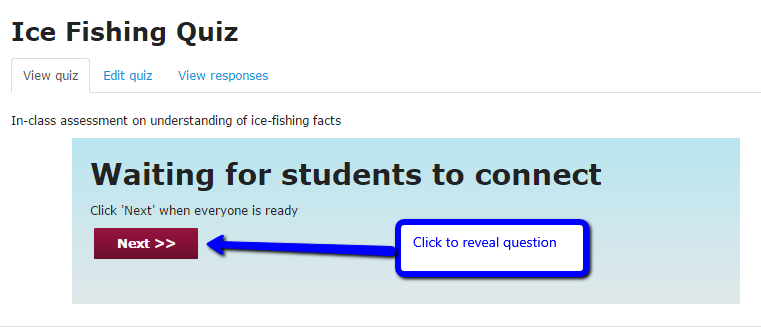 Here is a video that demonstrates how to administer a Realtime Quiz in a class.

(keywords: real time, quiz, quizzing, polling)
http://go.augsburg.edu/realtimeq
Last Modified: 2022/05/20
---