Viewing Faculty Contracts (Faculty)
Posted by Kathleen Kuross on 05 December 2011 09:06 AM
Viewing Faculty Contracts Online (Faculty)
Part-Time Faculty can view and print their teaching contract through Agresso Web / Administrative Self Service
Prerequisites: PDF viewer application (such as Adobe Reader); Enable popups to for terra.augsburg.edu
---

Contracts are found through Agresso Web link on Inside Augsburg.

To get there, follow these steps:
Login to Inside Augsburg (inside.augsburg.edu)


Click on

Administrative Tasks

and then

Agresso Web

.


Enter your AugNet username,

AD

for client, and your AugNet password.


Upon successful login, you will come to your Personnel Information page.





If you do not come to a Personnel Information screen, follow the directions, click HERE.

Click on the Documents button in the tool bar area.



Click "Pop-up blocked" in upper right. After a moment, the words may disappear and leave only a red "X". Choose "Always allow pop-ups from terra.augsburg.edu.




(The first time you may be asked to Allow Popups for terra.augsburg.edu if you have not done so already)

The "Document" Archive will open.
Under the Resource folder you will see a Faculty Contract folder. Click on that folder.
On the right side you will see one or more dated contracts. Click on the contract you wish to view.




Depending on your browser, it may ask you to save or open the PDF document. You may also get a pop-blocker message that you will need to ok, before you can view the document.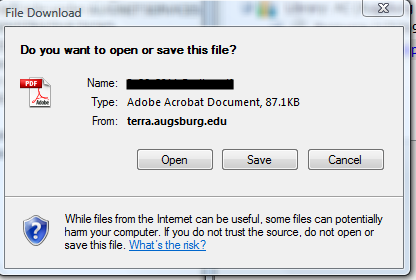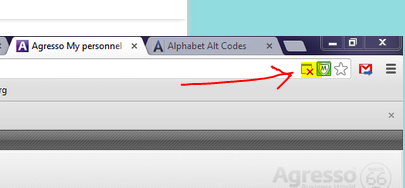 8. Close the Document Archive window.
9. Log Off done.



If you are not automatically directed to your Personnel Information screen upon login, navigate the menu to the Personnel Information screen:
Click on Personnel Info in the left hand menu


Click Personnel to expand the menu options, and then click Personnel Information.


updated: 9/29/2015
---