Uploading a podcast to your blog from a Mac
Posted by Scott Krajewski (Import) on 04 September 2009 02:49 PM
Macs with MacOS 10.5 or newer come with the

Podcast Capture

application in

Applications->Utilities

.

1. Start

Podcast Capture

and connect to

podcasts.augsburg.edu

with your AugNet username and password.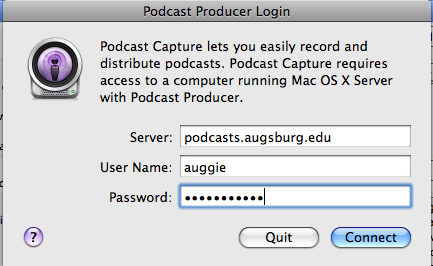 2. Then choose the type of podcast you are doing. You can record it now or upload a file you have recorded elsewhere.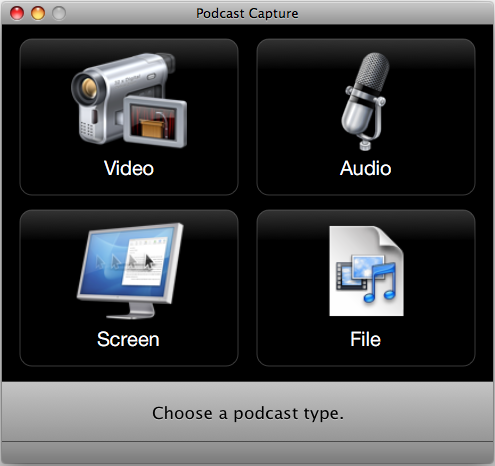 3. After creating the podcast or selecting the file you are ready to submit it to the server. Select the workflow called "

User Blog - post to a user blog

" for all video or audio files you create in Podcast Capture. If you are uploading an MP3 file, slect "

User Blog - Podcast a MP3 or pdf file

" instead.

Click "

Done

" and in a few minutes your podcast will be posted to your blog page.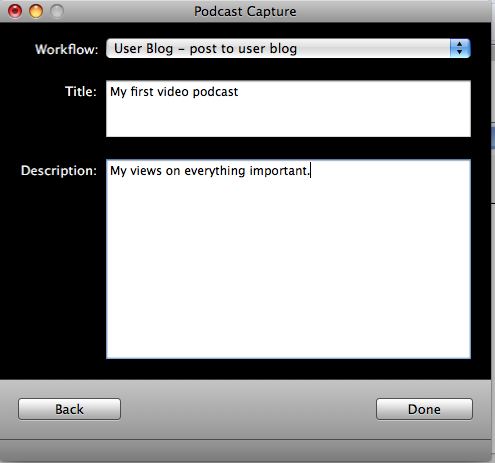 (keywords: upload podcast blog mac)


http://go.augsburg.edu/macuppodcastLast Modified: 2013/05/13

---