Uploading multiple files to a moodle course (Faculty/Staff/Students)
Posted by Eric Strom on 01 October 2009 02:47 PM
You can save time when uploading files to your course by moving multiple files at once. The secret is to compress (or zip) all the files you want to upload into a single zip archive file. This way we only need to upload 1 file to moodle instead of several.

View Content for:
2011 - 12 Academic Year and Earlier (Moodle 1.9)
2012 - 13 Academic Year and Later (Moodle 2)
2012 - 13 Academic Year and Later (Moodle 2)

Select all files meant for uploading.

Create a .zip file of the items ("File > Send to > Compressed (zipped) folder"

on a Windows machine; "File > Compress items" on a Mac).

Click Turn editing on in the upper-most right corner of the page.



From the Add a resource dropdown menu, select 'Folder'.



Give the folder a name and description, then scroll down to the Content section. Select 'Add'. Find and select the .zip file you created earlier, then click Upload this file.



Click on the gear icon nex to the file name, then select 'Unzip'.




After specifiying other aspects, select either Save and return to course or Save and display when done.
Click Edit in the next window; click on the gear icon next to the .zip file folder and select 'delete' - since the contained files are uploaded, we don't need the .zip file anymore.
Save your changes.

2011 - 12 Academic Year and Earlier (Moodle 1.9)
Step 1: Prepare your files for upload

Select all the files you wish to upload. See article on selecting multiple objects. Folders can also be selected which will include all the items stored within them.
Next, create a .zip file by one of the following:

In Windows, choose "

File >

Send To > Compressed (zipped) folder

" or a right-click on the selection and choose

"Send To > Compressed (zipped) folder

".
This creates a .zip folder.


On a Mac, Choose "

File > Compress Items

", or right-click (control-click) on the selected files and choose "

Compress Items

" for the contextual menu.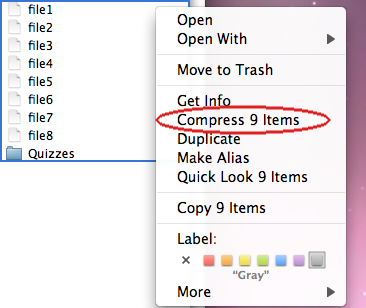 This creates a file named archive.zip.
Step 2: Upload zip file to moodle
Log into Augnet
Click on "My Courses (moodle)"
Click on the course (i.e. "Chemical Dependency Education (HPE115_2006SUM1-S)") to which you want to upload.
In the Administration block, click "Files".




Click "Upload a file"





"Browse" to find your archive.zip file on your hard drive (Desktop or Documents folder, etc.), click "Open"


Click "Upload this file"

Step 3: Uncompress the .zip file
Click "Unzip" under the Action column for the archive.zip file.


You will get a confirmation page listing the files that have been unzipped. Click "OK".


At this point you can delete the Archive.zip file (and the _MACOSX directory that appears if you used a mac for the compression process) from the moodle file listing; check the boxes left of the items and "choose Delete completely". The files named "._filename" are related to Mac OS finder resources and are not your actual files so it is safe to remove them.
See also
Uploading and linking a file in your moodle course
.
http://go.augsburg.edu/moodlemulti
Last Modified: 2013/05/14
---